The Harp

Covent Garden, WC2N 4HS
The Harp

Covent Garden, WC2N 4HS
Cask beers available
Cask beers available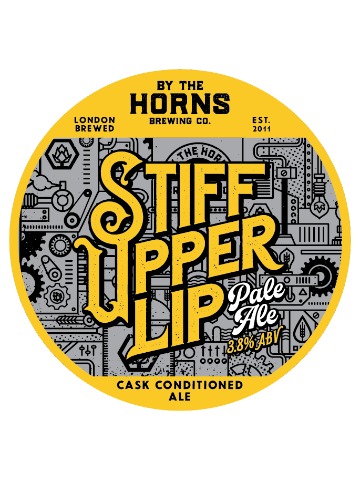 Stiff Upper lip - 3.8%
Stiff Upper lip
By The Horns
3.8% abv
A well balanced mellow malt base gives this pale ale a clean body, whilst a myriad of Cascade, Citra and Centennial hops leave the beer with a wonderfully citrus and crisp finish.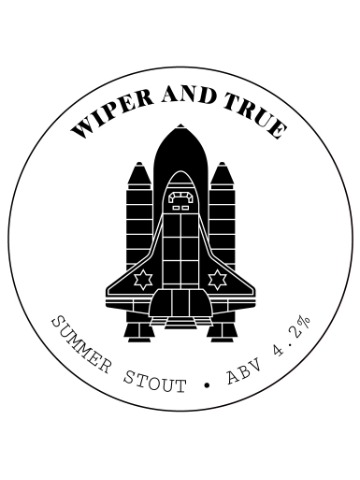 Summer Stout - 4.2%
Summer Stout
Wiper and True
4.2% abv
A classic dry stout with an emphasis on big fruit notes from the hops. Traditionally stouts wouldn't have been dry hopped but we've gone for a high rate – the same as Kaleidoscope as we feel hop aromas pair really well with roasted malts. Its light fruity character makes it the perfect accompaniment to a sunny day and in cask, the roasted notes are accentuated beautifully.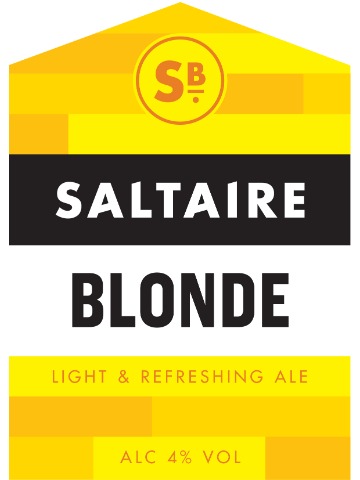 Saltaire - 4%
Saltaire
Saltaire
4% abv
A straw coloured light ale with soft malt flavours, delicately hopped with Czech and German hop varities.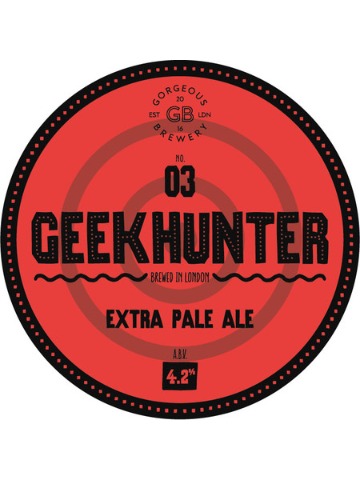 Geekhunter - 4.2%
Geekhunter
Gorgeous
4.2% abv
Very pale ale with aromas of grapefruit and stonefruit from the use of Rakau, Chinook and Cascade hops. Light-bodied, hoppy and easy drinking.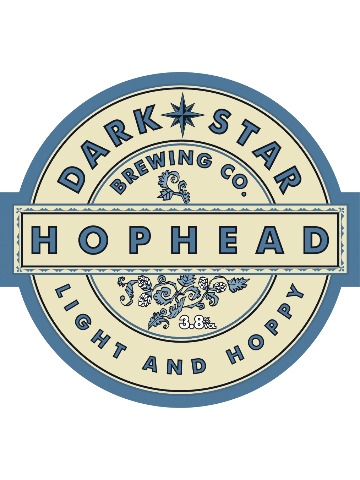 Hophead - 3.8%
Hophead
Dark Star
3.8% abv
An extremely clean-drinking pale golden ale with a strong floral aroma and elderflower notes from the Cascade hops.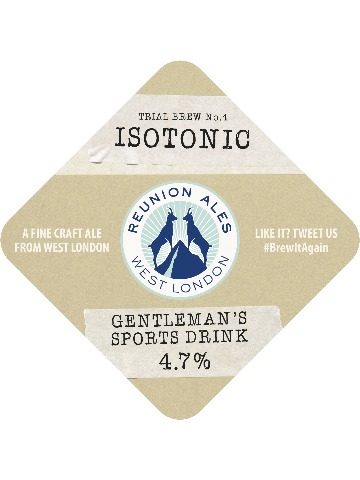 Isotonic - 4.7%
Isotonic
Reunion
4.7% abv
A thirst quenching pale ale brewed with Maris Otter and Carapils malts. Generously hopped with US Cascade and Simcoe bringing a full hit of fruit and citrus. Deeply refreshing - the Gentleman's Sports Drink.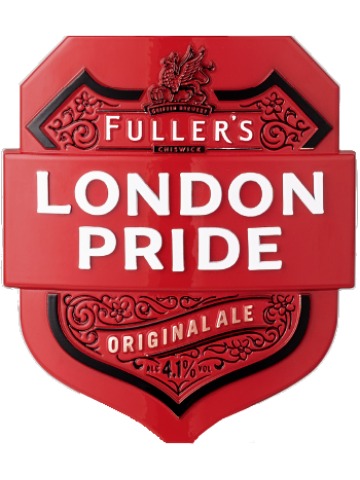 London Pride - 4.1%
London Pride
Fuller's
4.1% abv
A rich, smooth and wonderfully balanced beer, its distinctive malty base is complemented by a well-developed hop character, from adding Target, Challenger and Northdown varieties to the brew.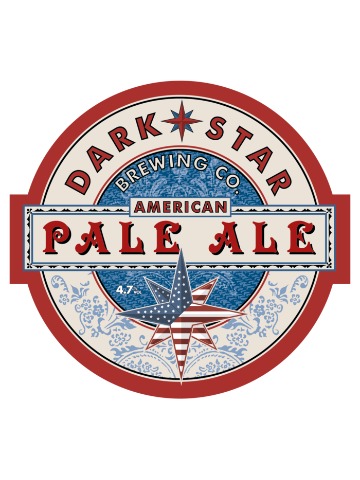 American Pale Ale - 4.7%
American Pale Ale
Dark Star
4.7% abv
The yeast strain used for the brewing of this American style pale ale is specially imported from the USA, along with Cascade, Centennial and Chinook hops. The low colour Maris Otter malt provides a perfect light colour and dryness to complement the crisp taste and full aroma of the hops. SERIOUSLY FULL OF HOPS.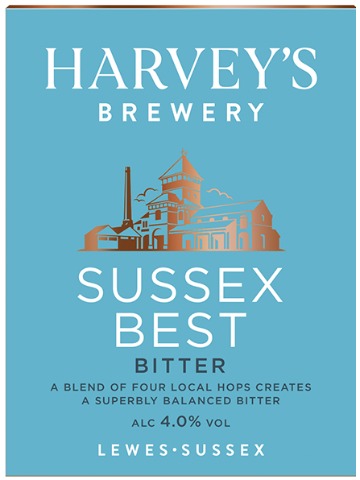 Sussex Best - 4%
Sussex Best
Harvey's
4% abv
Finest Maris Otter malted barley is supplemented with a dash of Crystal malt for balance. Our hops are a blend of four different local varieties, to give a distinctive hoppy finish.
Craft Keg available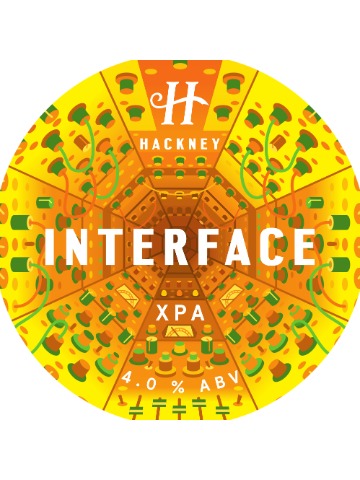 Interface - 4%
Interface
Hackney
4% abv
The future is here. Interface is a hop forward extra pale ale. The clean malt profile accentuates the loaded Citra, Amarillo and Chinook. With the crispness of a lager and the hoppiness of a pale ale, with soft fruits and tropical undertones. A session-able addition to our core range.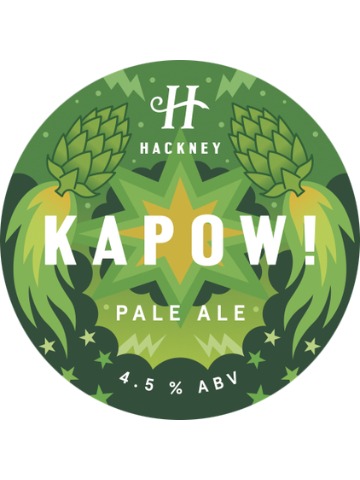 Kapow! - 4.5%
Kapow!
Hackney
4.5% abv
This little firework of tropical fruits is a juicy, dry hopped pale ale. A superb blend of big American hops that creates a bold distinct brew. It's packed with pine, floral and pineapple hop flavours and aromas. A light malt base with a touch of dextrin malt, locks in the hop character and boosts mouthfeel.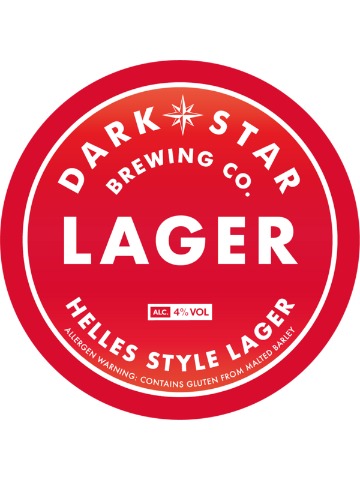 Lager - 4%
Lager
Dark Star
4% abv
Made with German lager malt, this low bitterness, clean and crisp lager is brewed using Polaris hops for bittering and Hallertau Mittelfruh hops for aroma.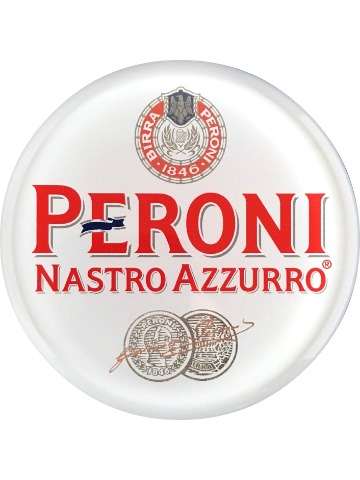 Peroni Nastro Azzurro - 5.1%
Peroni Nastro Azzurro
Birra Peroni
5.1% abv
Since 1963 Peroni Nastro Azzurro has been created by Italians with craftsmanship, passion and flair to offer a delicate balance of bitterness and citrus aromatic notes with a surprisingly quick and dry finish.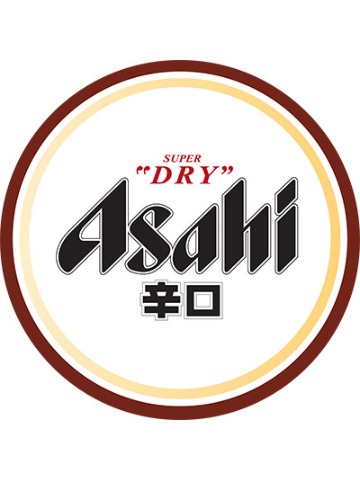 Asahi Super Dry - 5%
Asahi Super Dry
Asahi
5% abv
The first Asahi Super Dry is formulated, and its KARAKUCHI taste changes product trends in Japan's beer industry. Dry hopping gives Asahi Super Dry a moderate balanced bitterness and a crisp, clean finish.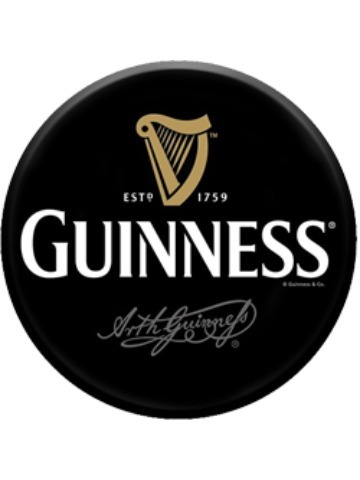 Guinness - 4.1%
Guinness
Guinness
4.1% abv
Unmistakeably GUINNESS, from the first velvet sip to the last, lingering drop. And every deep-dark satisfying mouthful in between.
Ciders & Perries available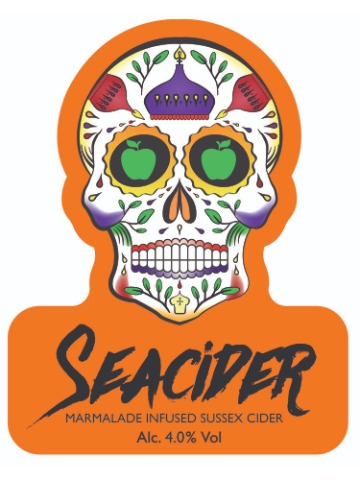 Marmalade - 4%
Marmalade
Seacider
4% abv
Made with Seville oranges and freshly pressed dessert fruit. Sweet, refreshing and bursting with flavour!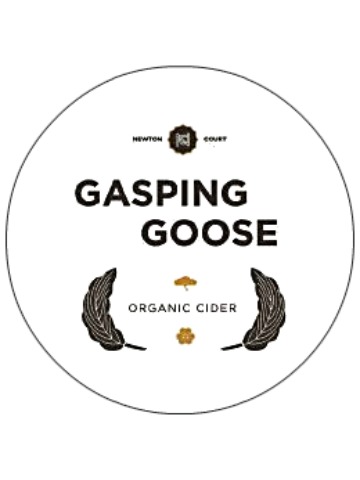 Gasping Goose - 5.8%
Gasping Goose
Newton Court
5.8% abv
A well balanced, golden medium bodied craft cider made with organic apples grown to Soil Association standards in Newton Courts orchards.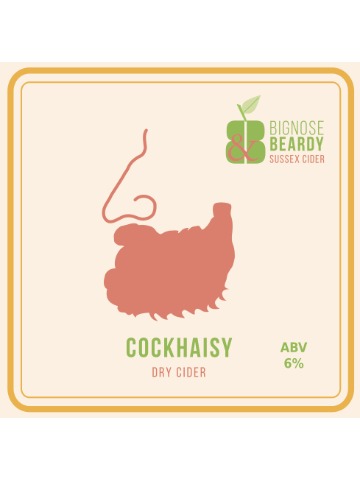 Cockhaisy - 6%
Cockhaisy
Bignose & Beardy
6% abv
We took cider apples from the back orchard at Cockhaise Mill Farm and blended them with eaters to give a pleasing dry with plenty of complex notes.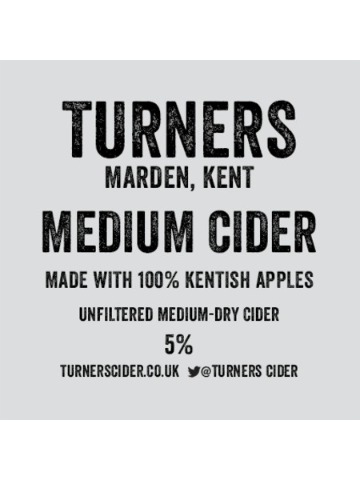 Medium Cider - 5%
Medium Cider
Turners
5% abv
Still, cloudy, naturally sweetened with fresh-pressed apple juice, giving a full, fruit flavour.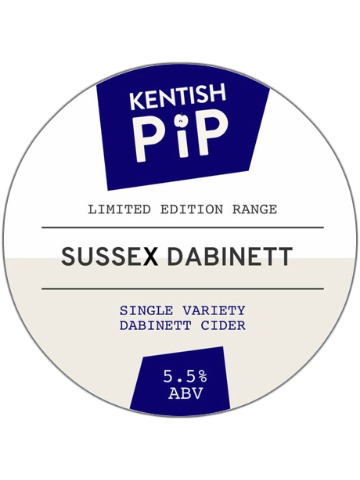 Sussex Dabinett - 5.5%
Sussex Dabinett
Kentish Pip
5.5% abv
Single variety Dabinett Cider from Sussex. Pressed, fermented and matured for 12 months at Kentish Pip. A dry cider with tongue tingling tannin, fruity on the nose with a smoky finish.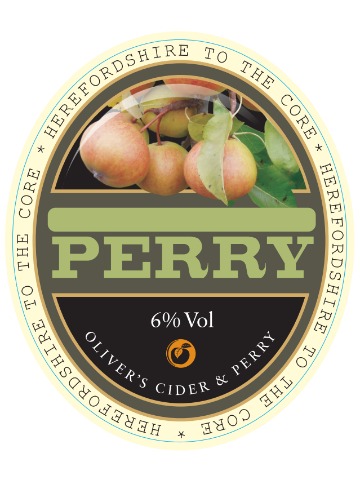 Perry - 6%
Perry
Oliver's
6% abv
The unfiltered off dry Brandy single varietal perry. This single varietal perry has a wonderful unique taste of the Brandy Perry Pear. A darker juice than most perries with a minerality and spirituous tang. 100% juice cider.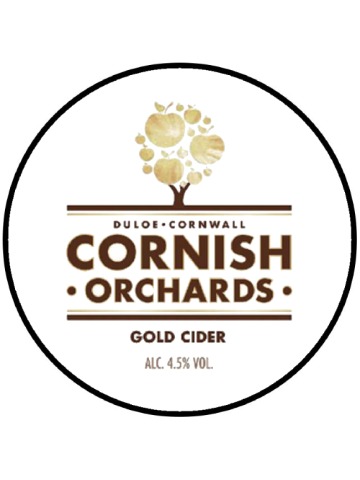 Gold Cider - 4.5%
Gold Cider
Cornish Orchards
4.5% abv
This immensely refreshing cider has a light, champagne sparkle,with fruity apple tones and a long dry finish. The creative blend of bittersweet and dessert apples impart this classic cider with body and crispness.
Coming Soon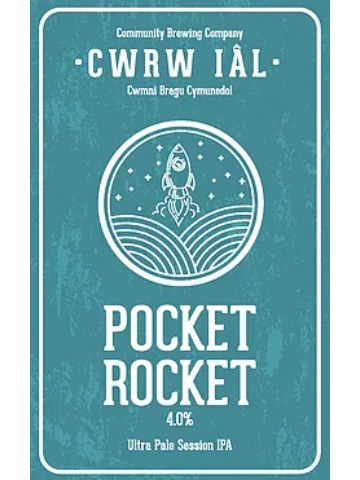 Pocket Rocket - 4%
Pocket Rocket
Cwrw Ial
4% abv
Ultra pale session IPA. A cheeky boisterous extra pale ale, made using crisp clean malts. With a late dry hopped smooth floral and citrus aroma.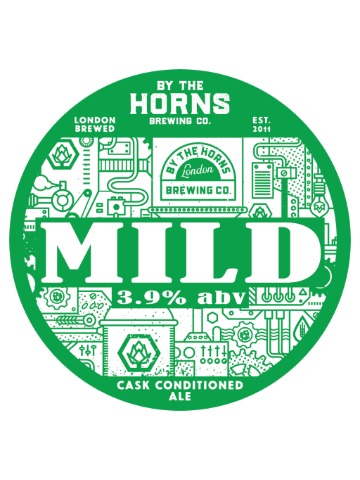 Mild - 3.9%
Mild
By The Horns
3.9% abv
The original session beer! Low to moderate carbonation with a medium body. A deep copper colour and off white head. Flavours includes malty, sweet, hazelnut with gentle esters of fruit and raisin. Finishing quite sweet. Nicely balanced but leaning towards the malty flavours over the slightly citrus hop profile.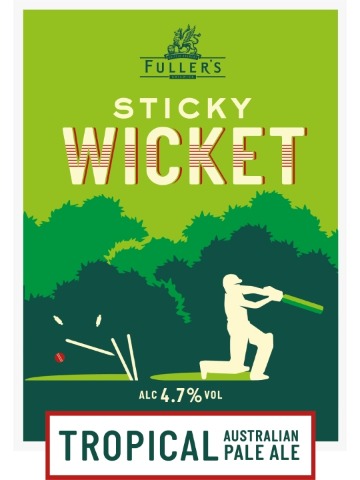 Sticky Wicket - 4.7%
Sticky Wicket
Fuller's
4.7% abv
Pale gold in colour, and brewed with a unique blend of ingredients from England and Australia, Sticky Wicket is a refreshing 4.7% ABV beer. The blend of English Pale Ale and Munich malt gives this light couloured beer a crisp clean flavour. The Australian Topaz hop adds a resinous grassy flavour with hints of lychee, while the Ella hop brings a tropical grapefruit flavour and a subtle spicy finish.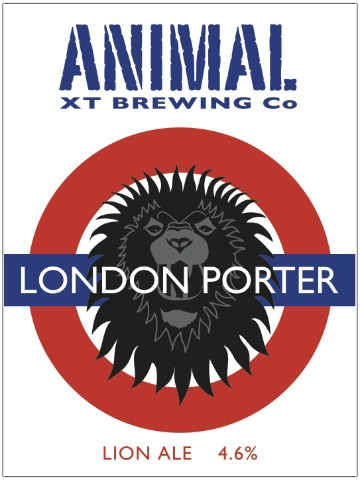 Lion London Porter - 4.6%
Lion London Porter
Animal, XT
4.6% abv
We have crafted a London classic: brewed with a traditional recipe and re-engineered London Water. This is an easy drinking beer with a rich, dark character matched with a toasty aroma and a hint of sweet earthy notes. A time honoured, full bodied London Porter.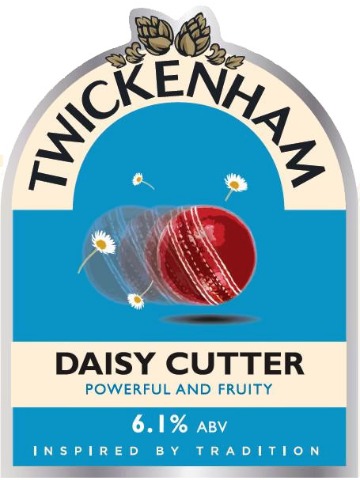 Daisy Cutter - 6.1%
Daisy Cutter
Twickenham
6.1% abv
A strong, well-hopped ale. Powerful golden coloured beer with a fruity, citrus nose and flavour. A veritable Hop Bomb, with over a kilo of hops per brewers barrel, it avoids being too bitter with a skilful blend of American hops, making this a beer to be reckoned with.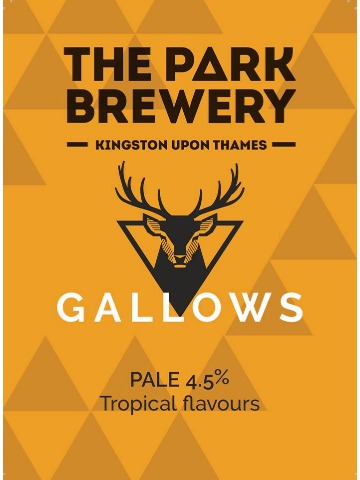 Gallows - 4.5%
Gallows
Park
4.5% abv
An American pale ale. Tropical fruits, sweet and well rounded with hints of mangoes and stacks of aroma.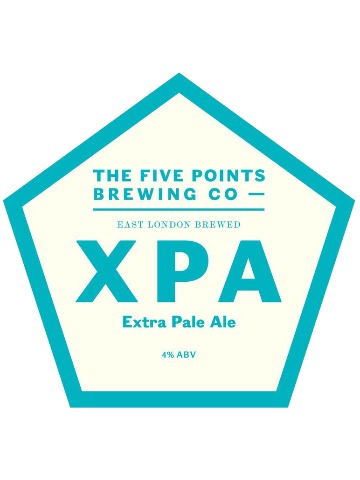 XPA - 4%
XPA
Five Points
4% abv
Juicy and tropical, even paler and hoppier than our flagship Five Points Pale. Dry hopped with Citra and Galaxy hops.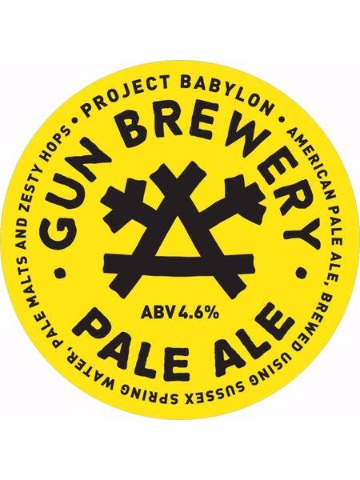 Project Babylon - 4.6%
Project Babylon
Gun
4.6% abv
A classic American Pale Ale brewed using a combination of very pale malts and American hops. Vibrant, refreshing and zesty on the nose, with citrus notes and a dry finish on the palate. A beer for hop lovers. Unfined, naturally hazy, and suitable for vegans.
This beer board is powered by Real Ale Finder. To get real time notifications from this pub download our consumer app.