Caskaway

Southampton, SO14 3DP
Caskaway

Southampton, SO14 3DP
Cask beers available
Cask beers available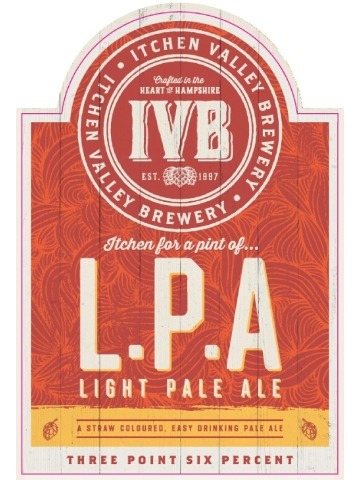 LPA - 3.6%
LPA
Itchen Valley
3.6% abv
A straw coloured pale ale that punches well above its ABV.
Peach Mosaic - 4.9%
Peach Mosaic
Red Cat
4.9% abv
A fruited version of Mosaic Pale. Light malt and golden colour, the intense and juicy tropical fruit flavours of Mosaic are enhanced with peach puree.
Craft Keg available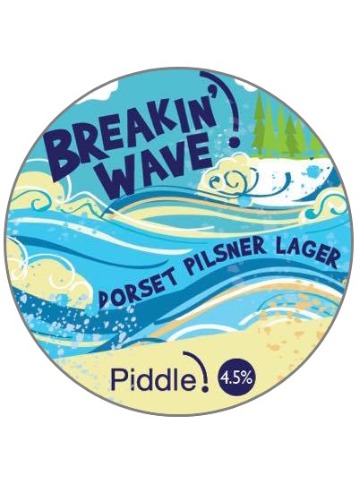 Breakin' Wave - 4.5%
Breakin' Wave
Piddle
4.5% abv
Dorset Pilsner lager.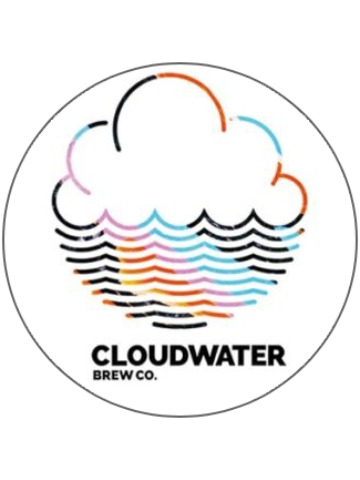 Small Pale (Chinook, Loral, Pilgrim) - 2.9%
Small Pale (Chinook, Loral, Pilgrim)
Cloudwater
2.9% abv
Small batch pale ale brewed with Chinook, Loral and Pilgrim hops.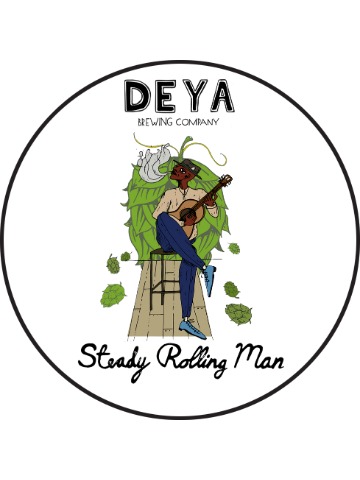 Steady Rolling Man - 5.2%
Steady Rolling Man
DEYA
5.2% abv
Inspired by the ridiculously tasty hoppy beers we fell for, we got brewing our own versions, over and over again, while listening to the blues greats. The heady concoction of old time blues records and juicy American hops transfixed us from the start and the rolling man was born in these sessions! Incredibly soft and delicate with intense tropical fruit hop aromatics and saturation, this is our vision of the perfect pale ale.
Just A Little Crush - 4%
Just A Little Crush
Odyssey
4% abv
Awaiting tastings notes from brewer.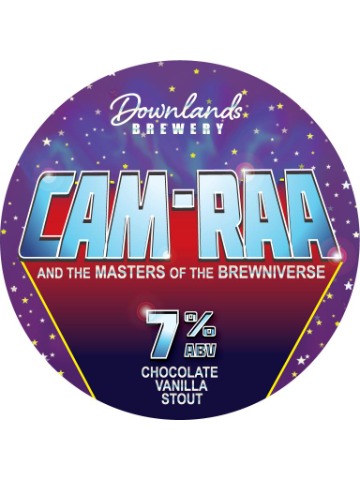 CAM-RAA and the Masters of the Brewniverse - 7%
CAM-RAA and the Masters of the Brewniverse
Downlands
7% abv
Chocolate vanilla stout with low carbonation for enhanced mouthfeel to deliver the abundant chocolate and vanilla flavours.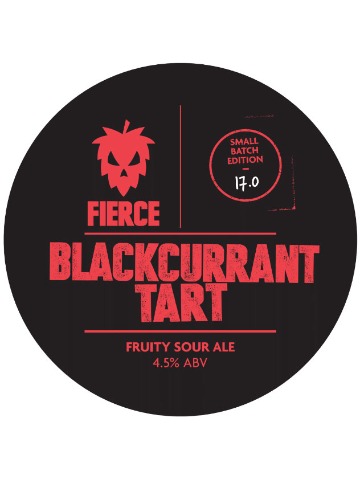 Blackcurrant Tart - 4.5%
Blackcurrant Tart
Fierce
4.5% abv
Don't let the delicate purple crushed velvet tones of this beer fool you. This is no super-sweet cordial. Fruity and refreshing it may be, but it packs a tart sour pucker-punch too.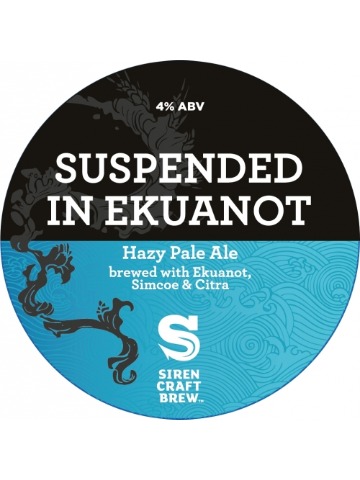 Suspended In Ekuanot - 4%
Suspended In Ekuanot
Siren Craft
4% abv
You'll see Ekuanot popping up in many a Siren recipe, it's one of our favourite new school hops. We're giving it a starring role in Suspended to show you what it's all about. Mango and passionfruit shine through in the aroma, backed up by resinous tropical fruit on the palate. Don't miss this one.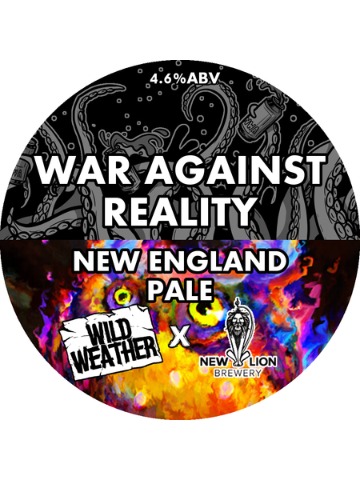 War Against Reality - 4.6%
War Against Reality
Wild Weather
4.6% abv
A soft, juicy New England IPA brewed in collaboration with New Lion Brewery. Hazy, smooth and double dry hopped with Mosaic and Simcoe.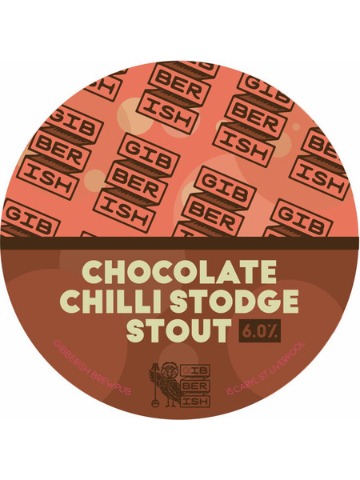 Chocolate Chilli Stodge Stout - 6%
Chocolate Chilli Stodge Stout
Gibberish
6% abv
Cacao fermented chilli stodgy stouty thing. Very nice - chilli not mental but definitely there.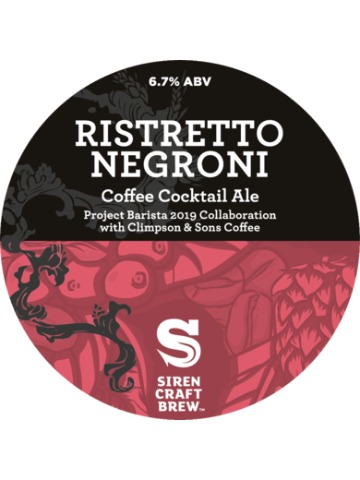 Ristretto Negroni - 6.7%
Ristretto Negroni
Siren Craft
6.7% abv
The classic Negroni is our founder Darron's favourite cocktail and this is our tribute to it. Starting with a Brut IPA base, we've used liquorice root in the boil to bring a sweet mouthfeel. A hop profile of Summit, Mandarina, Idaho 7, Amarillo and Columbus bring the required bitterness and orange notes with Hibiscus flowers providing the colour. Redcurrant, fresh orange juice and orange zest add freshness and bite, with juniper, coriander rounding out the cocktail character. The Rwandan Vunga coffee was sourced by Climpson & Sons, adding black tea and orange notes.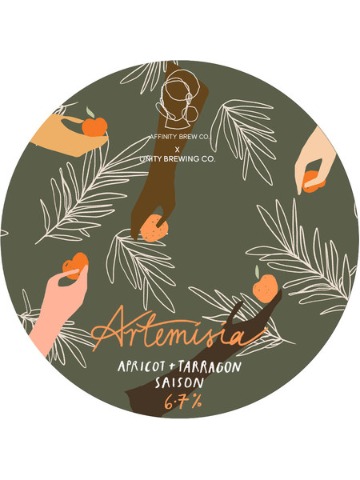 Artemisia - 6.7%
Artemisia
Affinity
6.7% abv
A Saison brewed with Apricot and fresh tarragon. The result is a rich, juicy, orange-gold beer with a satisfyingly dry finish and just a hint of anise. Brewed in collaboration with Unity Brew Co.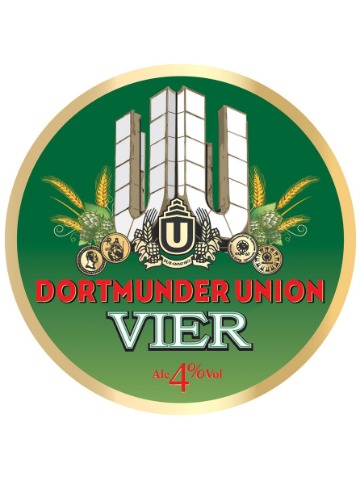 Vier - 4%
Vier
Dortmunder
4% abv
A light Pilsner style beer imported from Germany and brewed in strict accordance with The Reinheitsgebot or Purity Order. This lower abv version of Union Pils was introduced especially for the UK market to offer a lighter but still exceptional quality German pint. This golden lager is full of character with a beautiful crisp finish.
Ciders & Perries available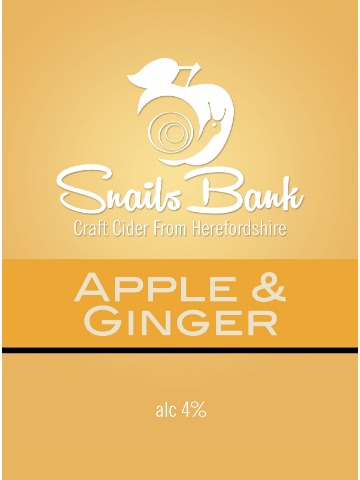 Apple & Ginger - 4%
Apple & Ginger
Snails Bank
4% abv
A clear and refreshing medium cider pepped up with freshly ground root ginger for a fiery kick!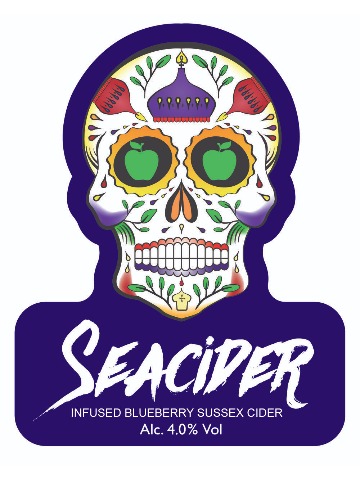 Blueberry - 4%
Blueberry
Seacider
4% abv
We have created a puree from 100% blueberries and have blended with a medium sweet cider to create a refreshing 'sessionable' fruity cider.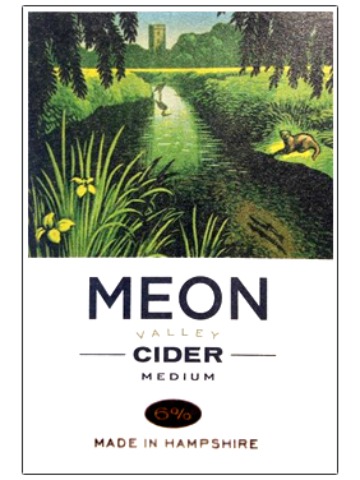 Chalkstream - 6%
Chalkstream
Meon Valley
6% abv
Our mainstream cider. Eminently quaffable! A golden amber coloured refreshing cider with an appley nose and long dry finish. Well balanced flavour comprising our own and locally sourced Hampshire and Sussex dessert/culinary apples bittersweets and bittersharps from the West Country.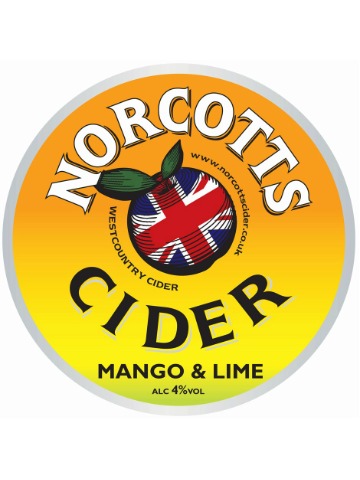 Mango & Lime - 4%
Mango & Lime
Norcotts
4% abv
A delicious light cider with distinct tropical notes. Sweet mango softened with tangy lime.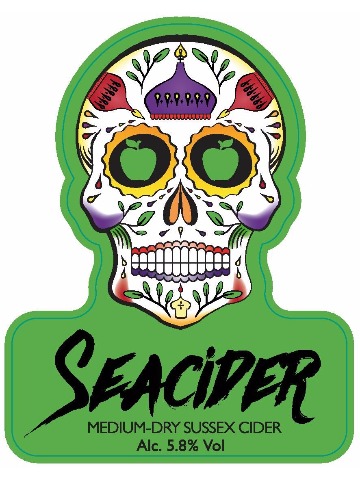 Medium Dry - 5.8%
Medium Dry
Seacider
5.8% abv
A fruity flourish gives way to a dry backbone. All the Gala and Bramley flavour washing over then a creeping dryness, refreshing the palate. Produced with slightly less Gala Apple juice to produce a refreshing dryness and a higher ABV.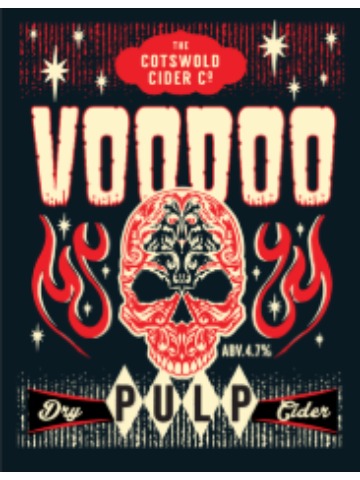 Voodoo Pulp - 4.7%
Voodoo Pulp
Cotswold Cider
4.7% abv
A dry tannic grip with a suitably satisfying apple depth. Real, real, real good.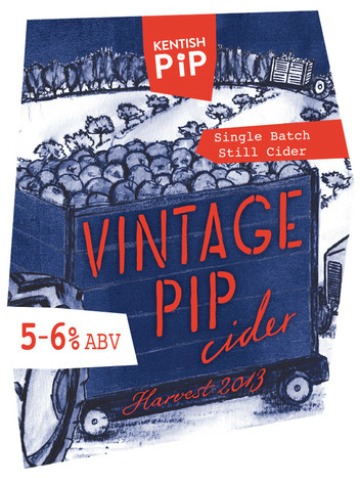 Vintage Pip - 5.8%
Vintage Pip
Kentish Pip
5.8% abv
Using the sweetest dessert and a higher percentage of cider apples this, more punchy cider is aged for a year to mellow, giving a rich medium sweet cider with lots of complexity and a long smooth finish.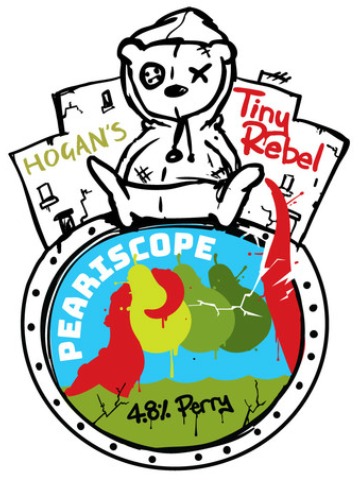 Peariscope - 4.8%
Peariscope
Tiny Rebel
4.8% abv
Highly quaffable with a sweet edge. It's light, mildly floral with hints of honey and a clean juicy finish. Easily sinkable, with a deep juicy flavour. Wrap your tentacles around this!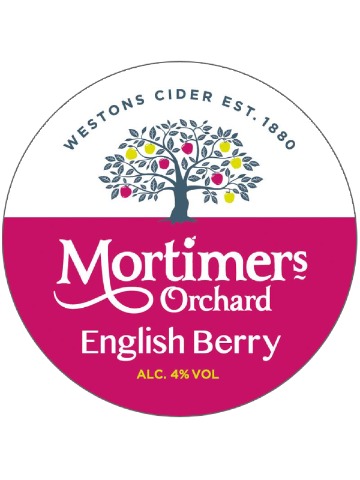 Mortimer's Orchard English Berry - 4%
Mortimer's Orchard English Berry
Westons
4% abv
A sparkling, clear, berry-coloured cider made from a unique blend of bittersweet, sharp and sweet apples, which is matured in Westons traditional oak vats before being blended with berry fruits to deliver an exceptionally flavoursome and refreshing cider.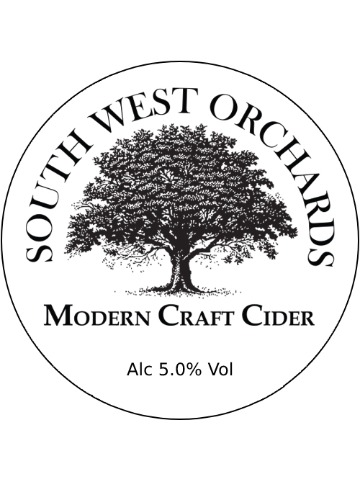 Modern Craft Cider - 5%
Modern Craft Cider
South West Orchards
5% abv
Made with fresh apple juice from a blend of the finest West Country Cider apples, such as Yarlington Mill, Harry's Master and Dabinett, plus a small amount of dessert apple to give the cider a fruity bite. The cider is fermented under ambient conditions, and then allowed to mature naturally for at least 3 months.
Coming Soon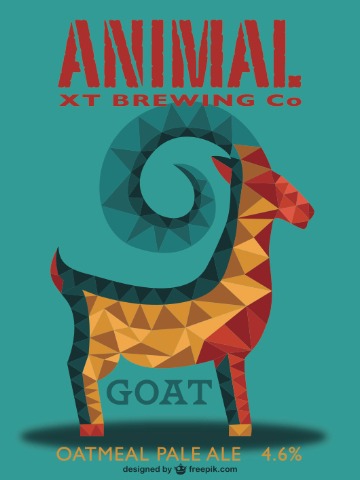 Goat - 4.6%
Goat
Animal, XT
4.6% abv
Full of body and oats, but still very pale and hoppy. Packed with British hops, Phoenix and Admiral, this cereal flavoured beer is paired with loads of citrus, floral and spicy notes.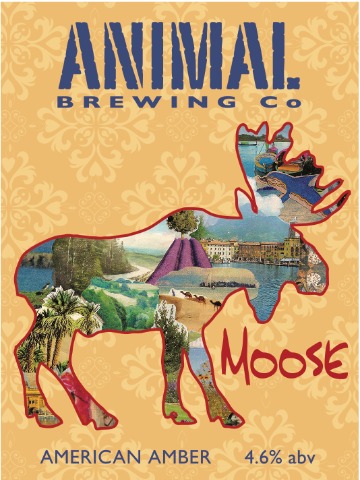 Moose - 4.6% (keg)
Moose (keg)
Animal, XT
4.6% abv
This is an American Amber, BIG on American Hops. Packed with Colombus, Chinook, Azzacca and Bravo hops it has loads of citrus and tropical flavours. It has a sweet malty backbone of toffee and caramel to balance the upfront hop hit.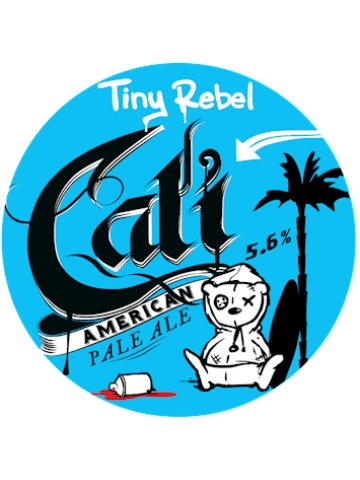 Cali - 5.6% (keg)
Cali (keg)
Tiny Rebel
5.6% abv
Resinous and tropical with light earthy undertones, Tiny Rebel take inspiration from the US West Coast and transform it into Cali, where Mosaic, Simcoe and Equinox hops bounce around your palate.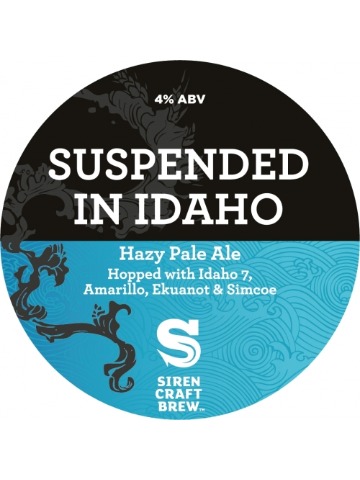 Suspended In Idaho - 4% (keg)
Suspended In Idaho (keg)
Siren Craft
4% abv
The latest in our "Suspended in..." series of hazy pale ales celebrates Idaho 7 hops, known for their piney, earthy yet tropical character. These notes are certainly present on the nose, with sweet tropical fruits and floral aromas shining through as well. To taste is an earthy character with a finish of tropical fruits and pine, rounded out by a soft and creamy mouthfeel.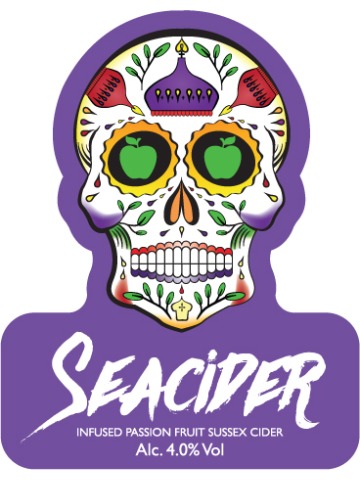 Passion Fruit - 4%
Passion Fruit
Seacider
4% abv
Made with the pure juice of passion fruit and blended with Seacider Medium, this cider is refreshing and packed with flavour.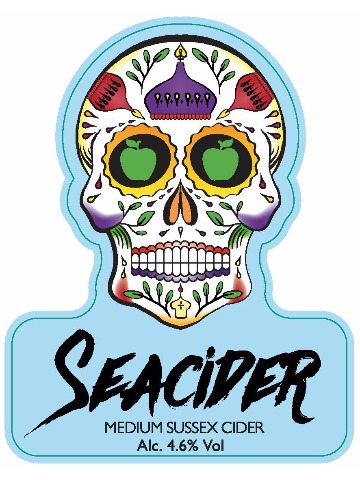 Medium Cider - 4.6%
Medium Cider
Seacider
4.6% abv
A 100% whole juice cider from apples that are hand-picked, hand sorted, hand-pressed and fermented with yeast time and patience. Plenty of Gala apple flavour with a bit of a twang and at a very drinkable ABV.
This beer board is powered by Real Ale Finder. To get real time notifications from this pub download our consumer app.